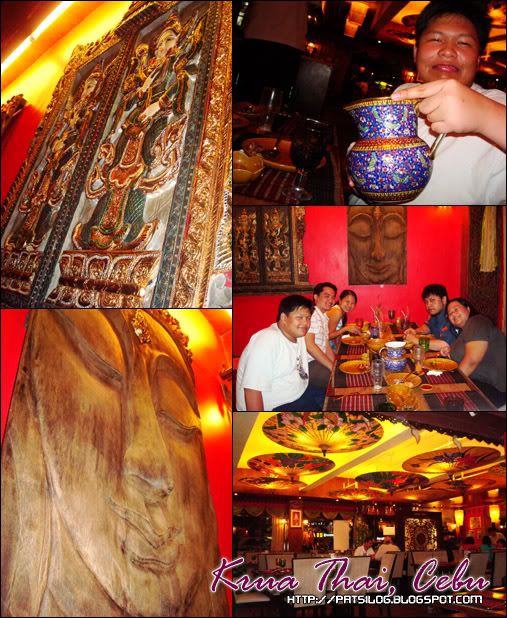 One of the highlights of our trip to Cebu was the last dinner before leaving for Manila at Krua Thai. We got to experience Thailand food in the middle of Pinas, who'd have thought of that? I haven't seen the restaurant here in Manila yet, so I don't have any basis of comparison. But all in all, here are the things that amazed me about the Krua Thai:
1. Food = Yummy. You have got to try their Tom Yam soup for a spicy, tingly start
2. Restaurant ornaments: from the draperies, to the "big faces" hanging by the wall, to the jewel-studded classic images of Thailand.
3. Inverted umbrellas = one of a kind. The umbrellas hanging upside-down on the ceiling is a marvel to watch.
4. Eccentric Jars & glasses (goblets): The kind usually found in King Arthur movies or during the height of the Knights' reign. Very cool!
If you plan to go to Cebu, don't miss this. Krua Thai is at:
Unit K Crossroad Mall, Banilad, Cebu.
Tel No. : +63(32) 231-8338
Fax : +63(32) 231-8338